At the INLA annual meeting on Wednesday, Feb. 21, INLA President John Hughes announced the 2017-18 INLA scholarship recipients as well as presented the "2018 Merit Award" to Wayne Koos, "2018 ICNP of The Year Award" to Anne Marie VanDerZanden, and "2018 Hall of Fame" to Doug Matthias.
2018  Merit Award   – Wayne Koos
Our Merit Award winner first became interested in horticulture when he was looking to plant a windbreak for his home. He attended workshops and events at the Iowa Arboretum and later joined as a member in the late 1980's.
He found himself constantly volunteering and specifically recalls helping to install the dry rock creek in front of the Arboretum building and erecting the Bechwith pavilion. During the original construction, it wasn't uncommon for him to be seen volunteering 3-4 days a week.
Later on, he has continued to help in mowing the 40 acres surrounding the Arboretum and has been the longtime serving board treasure.
To quote the nomination "Mr. Wayne Koos" has been invaluable to the Iowa Arboretum for many many years.  And as an added bonus the Arboretum is celebrating its 50th year anniversary.
Unfortunately, Mr. Koos was not able to attend and accept the award, however, in his place, Mr. Mark Schneider, Iowa Arboretum Executive Director, accepted the award on his behalf.
2018 ICNP of The Year – Anne Marie VanDerZanden
Our ICNP of the year first began at Iowa State as a faculty member. Her initial appointment was in the Department of Horticulture with teaching and extension responsibilities. She has taught over 20 different subject matters and has served as a horticulture extension specialist from 2003-2012.
She also served on the INLA Board from 2004-2012 during which she chaired the education and certification committees. Starting in 2005 she led a comprehensive review of the INLA Certification program. This included revising all 16 chapters and digitizing the material as well as adding 20 online training modules and created a continuing education webinar series to provide additional education opportunities. These modules have been used by hundreds of Iowa green industry professionals to prepare for the ICNP Exam.
In 2009 she moved into an administrative role at the ISU Center for Excellence in learning and teaching and yet still maintained her teaching appointment in the Hort Department. She later became the teaching center director until July 2017 and is now the in the role of Associate Provost for the university and focuses on accreditation, program improvement, distance education, and international programs.
She is a Fellow of the American Society for Horticulture Science, the author of three landscape related textbooks and is the president-elect of the North American Colleges and Teachers of Agriculture organization.
2018 Hall of Fame Award – Doug Matthias
Our 2018 Hall of Fame inductee began his career in junior high hoeing, weeding & trimming. His friend's father owned a nursery, garden center, and installation firm and needed help. After his first day helping the installation crew he was exhausted but felt the satisfaction of seeing what he created that day.
Later while working at UNI he had friends and family asking him to do small landscape maintenance jobs. After doing that for a year he invested a few dollars and it grew to a forty plus hour a week side job in a hurry. In the spring of 1999, he left the university and focused on establishing his business. Over the years it has grown to 16 full-time employees plus two sons.
Some of his best memories were in the beginning years when his father, who was an entrepreneur himself, would talk business over a beer or two. Or when he sons were still young but wanted to come to work with him on a Saturday so they could push rock and dirt piles with a skid loader.
He joined INLA and served on the board of directors for four years with the intent to help our association grow in the industry.
He has Three Children Jason, Brandon, & Melanie Three grandchildren Gavin, Rhett, & Avery. His favorite hobbies are duck hunting, fishing, the outdoors and the mighty Mississippi river.
 2017-18 SCHOLARSHIP RECIPIENTS
Annually the Iowa Nursery & Landscape Association (INLA) provides scholarships to students who are pursuing majors in horticulture degrees at Iowa colleges.  INLA is pleased to award the following four scholarships. The association recognized these 4 students on Wednesday, February 21.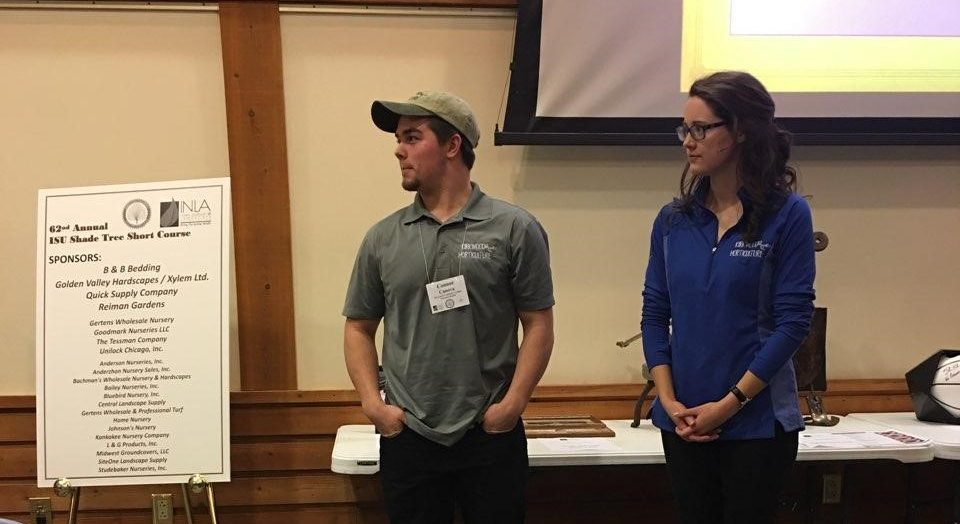 Haber Scholarship Winners:
Justin Wigdahl, Iowa State University
Community College Scholarship Winners

Sarah Gard, Kirkwood Community College
Connor Canova, Kirkwood Community College
Allyson Haselhuhn, Indian Hills Community College