2020 INLA Scholarship Recipients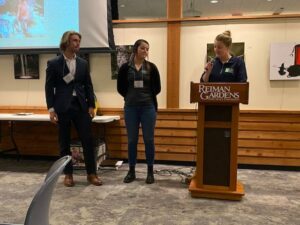 Annually the Iowa Nursery & Landscape Association (INLA) provides scholarships to students who are pursuing majors in horticulture degrees at Iowa colleges. INLA is pleased to award the ISU Haber Scholarship Winner to Luke Dietrich of West Des Moines, IA and the Community College Scholarship to Taylor Greko of Kirkwood Community College.
Harber Scholarship
Luke Dietrich, ISU
Community College Scholarship
Taylor Greko, Kirkwood Community College
2020 Scholarship Auction Donors
Thank you to all the companies who donated to the scholarship auction. All funds raised go toward the INLA scholarships.
Alta Falls Pond & Supply
Ames Convention & Visitors Bureau
Anderson Nursery
Anderzhon Nursery Sales
Arborjet
B & B Bedding
Bachman's Inc.
Bailey Nurseries
Bluebird Nursery, Inc.
Breezy Hill Nursery Inc.
Brenton Arboretum
Casey's General Stores
Central Landscape Supply
Chicago Cubs
Deere Run
Doty Nurseries
Golden Valley Hardscapes
Golden Valley Hardscapes
/Xylem Ltd
Goodmark Nurseries
Great Plains Nursery
Greenleaf Nursery Co
Hughes Nursery
Iowa Arboretum
Iowa Cubs
Iowa Lakes Community College
Iowa State University
Iowa Urban Tree Council
ISU Horticulture
Johnson's Nursery
Kankakee Nursery Co
King Materials
King's Material Inc.
(Dennis Rigby)
Kirkwood Community College
Kum & Go
L&G Products
Lelena
Matthias Landscaping
Midland Concrete Products
Midwest Arborist Supplies
Midwest Groundcovers
Nick Reiter, Escapes Landscape & Design
Quick Supply
Rainbow Treecare Scientific Advancements
Reiman Gardens
Robert Adolph
Rochester Concrete Products/ Quick Supply
Site One John Deere Landscapes
Studebaker Nurseries
TheTessman Companies
TreeDiaper
Unilock
Vermeer