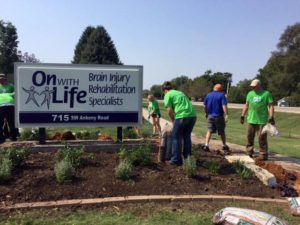 The sixth annual INLA Day of Service was held on Wednesday, September 13, 2017 at the On With Life, Inc. (OWL) facility at their Ankeny campus.  Around 30 volunteers including: member companies, DMACC and Kirkwood Community College horticulture students, as well as board members. All our volunteers received plenty of food and t-shirts. A BIG thank you goes out to Shawna Moss at Kirkwood for her fundraising efforts, Linda Grieve at PerennialGardens for the design wok for the project, and Cindy at OWL for her homemade treats!
2017 SPONSORS:
Hughes Nursery & Landscaping
Foster's Lawn & Garden Supplies
Pereninial Garden
Egli Landscape
King's Materials, Inc.
OWL is a not-for-profit organization specializing in brain injury rehabilitation. They began as the dream of a dedicated, passionate group of survivors and their families, faced with the challenge of rebuilding lives shattered by brain injury. The Ankeny campus sits on 20 acres of land and was the starting point of On With Life opened in 1991.  www.onwithlife.org.
"Currently, On With Life is lacking an outdoor environment for those in rehabilitation and their family members. We have limited outdoor areas for persons served to explore, places that a young parent can play with his or her child, or places where families can relax and have respite from the challenges of their new normal. In addition, the outdoor grounds at On With Life are almost entirely undeveloped and inadequate for delivering therapy, with very few hard surfaces suitable for wheelchairs."
THANK YOU TO ALL THAT PARTICIPATED!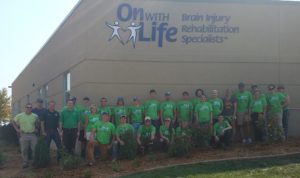 2017 Project 
2016 Project
We had a great group of volunteers at the Iowa Arboretum in Ames last year!  Students from Kirkwood and DMACC participated in the service day, they revamped their entrance sign area, adding pavers, mulch and creating a flagstone pathway and center piece connecting the new one room school house and children's garden, and Landscaping the school house, complete with proper rain garden for drainage, period appropriate plants, and mulch. Read more about our 2016 project here>>>, view photos, watch the coverage on the Agribusiness report on WHO-TV.
click to view: