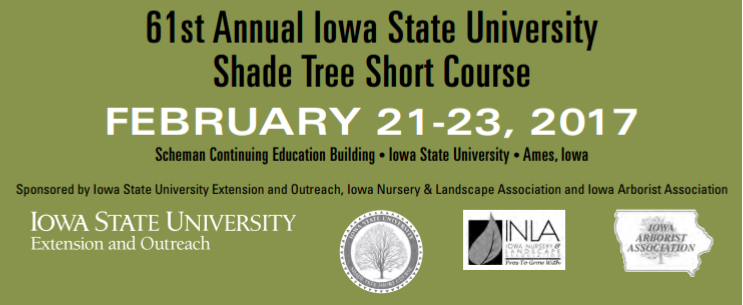 Iowa State's annual Shade Tree Short Course is once again teaming up with the Iowa Nursery & Landscape Association's Trade Show. The partnership brings exhibitors an even bigger, better opportunity to connect with potential clients by highlighting the best of both worlds and incorporating INLA's long-standing trade show into the traditional ISU Shade Tree Short Course educational sessions.
The Iowa Nursery & Landscape Association will host an entire day specifically designed for INLA members. The day will feature Iowa Certified Nursery Professional (ICNP) certification testing and a continuing education program for current ICNP's. View full conference agenda online provided by ISU Extension.
Online  –  Register Online for the INLA Day to make payment with credit card, check, money order, purchase order or ISU intramural. Or you can register by mail, print a registration form and mail to Iowa State University, Registration Services, 1601 Golden Aspen Dr. Ste 110, Ames, IA 50010.
Membership Dinner & Scholarship Dinner
The Annual Membership Dinner and Scholarship Auction will take place Wednesday, February 22, beginning at 5:00 p.m. at Reiman Gardens. All proceeds from this event go to INLA Horticulture scholarships.  You are invited to join trade show attendees in a relaxing environment for networking and entertainment.
CONGRATULATIONS
TO OUR 2016 SCHOLARSHIP RECIPIENTS!
Annually the Iowa Nursery & Landscape Association (INLA) provides scholarships to students who are pursuing majors in horticulture degrees at Iowa colleges.  INLA is pleased to award the following four scholarships. Please join us on Wednesday, February 22 at 5:00 PM for the our Scholarship Auction and FREE hospitality hour and heavy hors d'oeuvres and congratulate our students! All proceed go toward the INLA Horticulture Scholarships.
Haber Scholarship Winners:
Marcus Jansen, Iowa State University
Brooke Jerie, Iowa State University
Community College Scholarship Winners
Gabriel Pope, Kirkwood Community College
Dylan Schrock, Kirkwood Community College
Exhibitor FYI
Exhibitors may tear down their booths between 1:30-5:00 p.m. on Thursday, February 23. Carts will be available in the ground floor lobby of the Scheman Building to transport your materials to your vehicles. If you have materials which need to be shipped back to your organization, please pack them in an appropriate container or box, place a pre-paid shipping label on the outside, and leave at your exhibit table. Building staff will ship it back for you via your preferred carrier the following business day.
Sponsoring!
Sponsors help support the conference in a variety of ways which include the ICNP Tradeshow Preview & Reception on Tuesday, the Hospitality Hour and the Dinner & Scholarship Auction.
INLA would greatly appreciate any help you can provide us this year. All contributions of $150 or more (that are received by Monday, Feb 16, 2017) will be listed in trade show materials, INLA newsletters and on the INLA website.